Model of Noah's Ark
As Constructed By: Irby (CoCo) Toups
Model by: Irby Toups Constructed 1986
Content
The Living Quarters | The Stalls | The Housed Animals | Floor Access | Credits and Acknowledgments
Overview

This rendering of Noah's Ark was constructed in 1986 by a Houma, Louisiana gentleman, Irby Toups. He is better known as Coco. Coco had a desire to construct a replica of Noah's Ark, after reading an article from a church newsletter which pictured the Ark as a ship. He wanted to present this vessel as a model to teach that the Ark was not a ship but rather as the name implies, a box, a chest or a coffin. In order to create a model according to God's plan, Coco spent six months researching its construction, size, and materials. He then spent the next three months building this model of Noah's Ark in 1/45th scale.
Using printed information from the following books:
"In Search of Noah's Ark" The Greatest Discovery of Our Time
by Dave Balsiger and Charles E. Sellier, Jr.
"Noah's Ark: Fable or Fact?"
by Violet M. Cummings
"The Quest for Noah's Ark"
by John Warwick Montgomery
"The Genesis Flood"
by John C. Whitcomb, Jr. and Henry M. Morris
1st Floor: Cages to house animals. Large animals were placed in the center of the Ark to help control balance of the animals.
2nd Floor: Food storage containers for animals, Noah and his family. There were elevator shafts in order to haul food & water to the cages.
Bottom Floor: Held water containers also acted as a baffle in order for the water not to roll the Ark over. Water was for animals, Noah, and his family.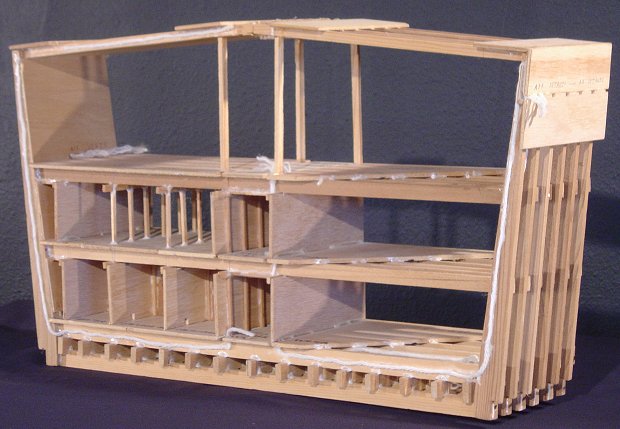 The ROPES indicate how air was circulated throughout the Ark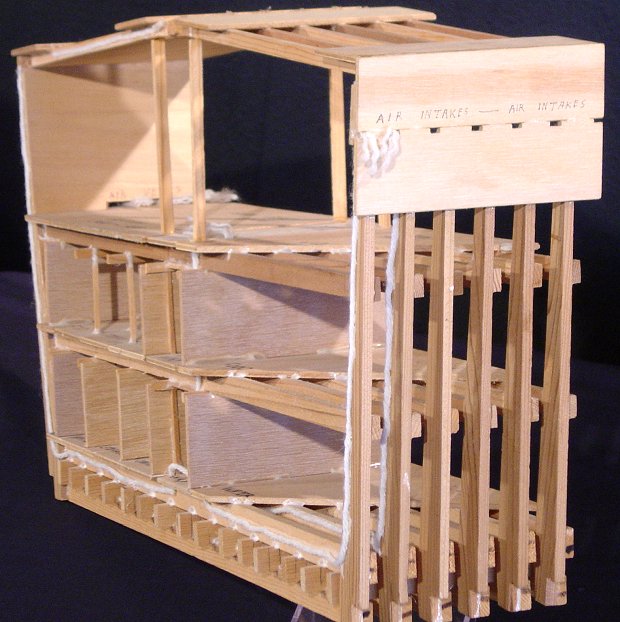 The Living Quarters
Back to top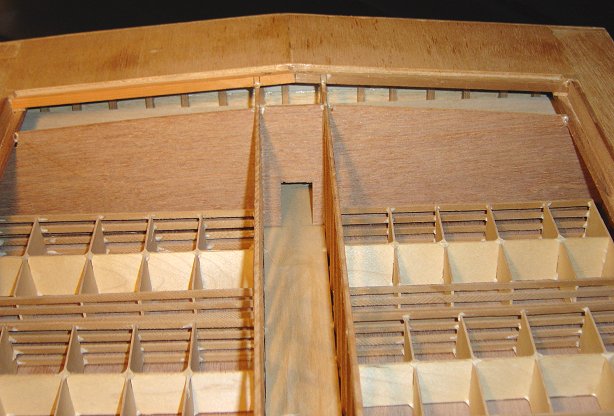 The LIVING AREA for Noah and his family was located at the far end of the Ark, as shown in this picture. It is assumed that this position was so that, Noah and his family could be stationed on one end of the Ark, while the louder animals were quartered on the opposite end.
The Stalls
Back to top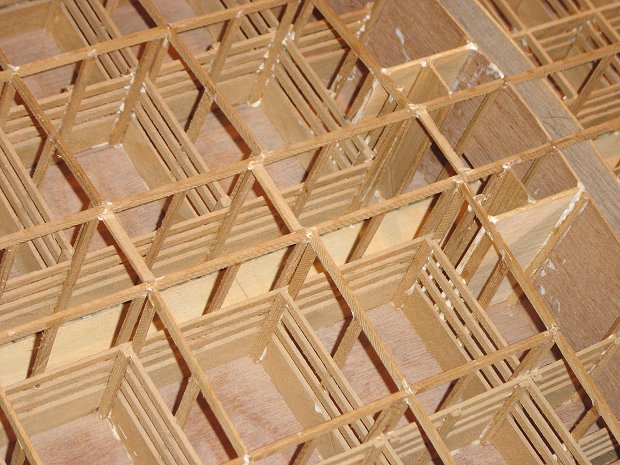 The STALLS were designed to accommodate the animals according to their size.
The Housed Animals
Back to top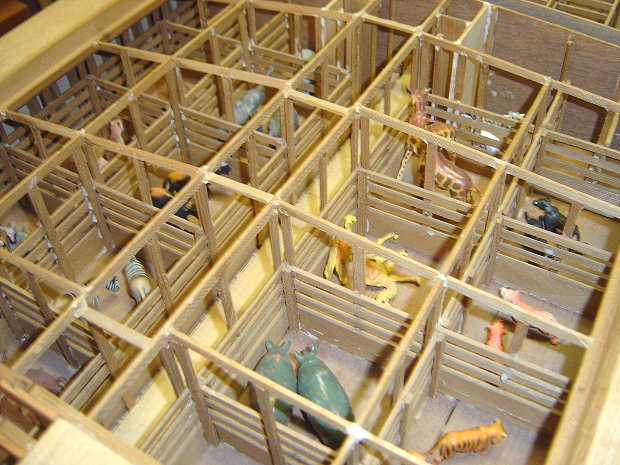 The Animals in their designated stalls.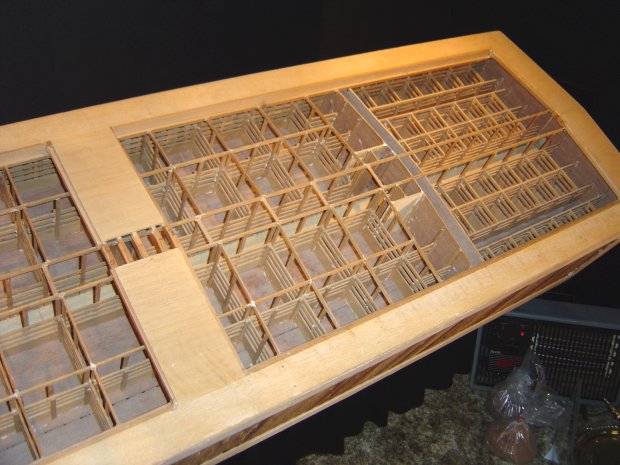 The larger animals, such as the elephant, rhinoceros, and hippopotamus, were housed in the middle section of the Ark for balance.
Floor Access
Back to top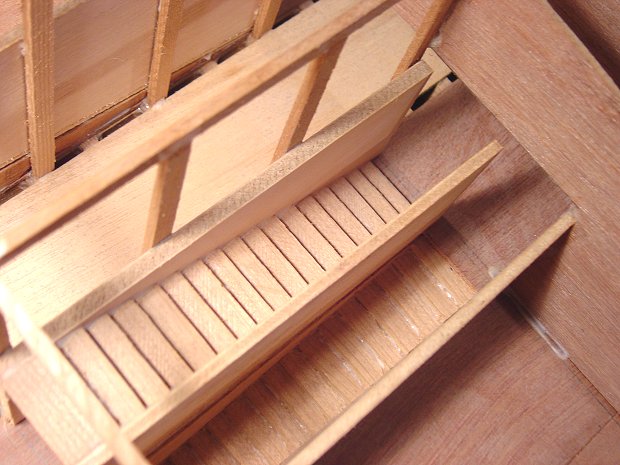 The Ark's design, having three floor levels were accessed by either stairs, as shown, or elevators.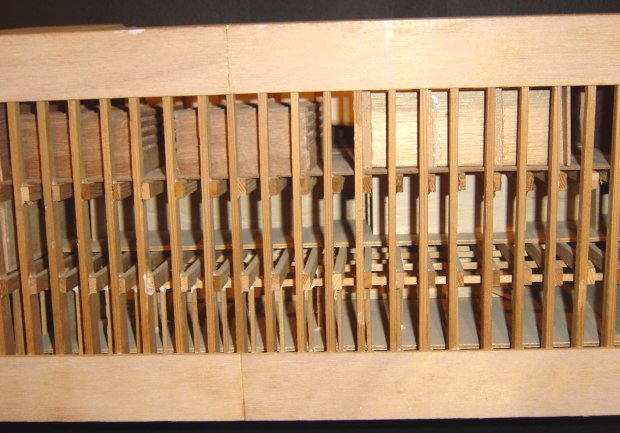 Credits and Acknowledgments
Back to top
After completing the model Mr. Toups on several occasions displayed this exhibit within his local area . A friend, Ellen Roberts informed Mr. Toups of a ministry which could expand the exposure of the ark. He decided to entrust his labor of love to Mishkan Ministries.
Mishkan Ministries acquired this detailed model of Noah's Ark in 1999.
David Hamilton, President and Curator of Mishkan Ministries Traveling Biblical Museum, is honored to add this educational piece to his collection.